HBA is proud to offer the AP Capstone Diploma.
The Capstone Diploma consists of two new courses, which can be taken individually, like any other AP class, or applied to the AP Diploma along with any four other AP courses. These can be spread out over grades 9-12. Students who pass only the two courses: Seminar and Research, will receive a special certificate. The following information has been taken from the College Board website:
Rather than teaching subject-specific content, these courses develop students' skills in research, analysis, evidence-based arguments, collaboration, writing, and presenting. Students who complete the two-year program can earn one of two different AP Capstone awards, which are valued by colleges across the United States and around the world.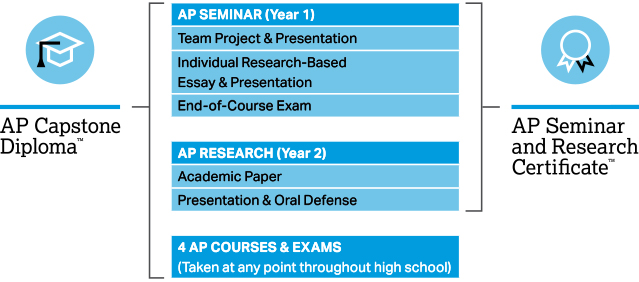 AP Seminar provides sustained practice of investigating issues from multiple perspectives and cultivates student writing abilities so they can craft, communicate, and defend evidence-based arguments. Students are empowered to collect and analyze information with accuracy and precision and are assessed through a team project and presentation, an individual written essay and presentation, and a written exam. This course is open to students in grades 10-12 by application only. A writing sample and copy of transcripts must be submitted for consideration. Students should have earned an A or B in Honors or AP English and/or AP History.
AP Research students develop the skills and discipline necessary to conduct independent research to produce and defend a scholarly academic thesis. This second course in the AP Capstone experience allows students to explore deeply an academic topic, problem, or issue of individual interest and through this inquiry, students design, plan, and conduct a year-long mentored, research-based investigation. The course culminates in an academic thesis paper of approximately 5,000 words and a presentation, performance, or exhibition with an oral defense. This course will be offered in Fall 2020 to students in grades 11 and 12 who have successfully completed AP Seminar.
If you are interested in applying to AP Seminar, please fill out the form below: